We got the chance to catch up with Steve Brown on the sunny lunch time of 25th June, when he came to collect his new Sunrise Medical Helium Chair that we custom built to his specific requirements.
Apart from it being the hottest day of 2018 so far, Steve insisted we sat outside to soak up the sun and chat about his career and upcoming projects.
With most of his time focusing on Presenting the BBC 's Country File and One Show, Steve has exciting news he will be presenting at this year's Wimbledon, which is going to take up most of his July! He explained his love for sports has lead him to new opportunities where he can broaden his horizons and take on a different role from his first passion of playing rugby.  Needless to say, he still finds the time to get involved with playing the sport in his spare time.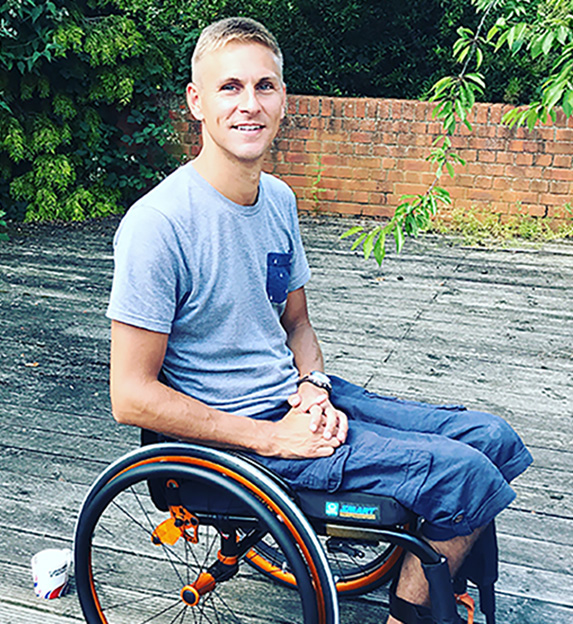 With Steve's many hats, he needs many variations of Chairs and equipment to get around, depending on the job at hand.  Today he was picking up this new Sunrise Medical Chair from our Kent Mobility Head Office in Tonbridge, Kent, in addition, he told me about how they have helped him over the years.
''The first time I bought a chair that wasn't through the hospital, John Payne came out to visit and measure me up, he was fantastic and since then Kent Mobility has continued to support me through the changes in my life and career, through Wheelchair Rugby, Sports equipment, and just before my Vietnam trip John visited me again to ensure my chair was Vietnam ready along with supplying additional and essential equipment for the varying terrains I would be facing''.  He goes on to say ''John was determined to help me and sourced everything I needed and continues to support me where ever they can''.
Steve is looking forward to the new challenges his Presenting career brings, he also hopes to push people's expectations to what can be achieved with the right support and equipment to overcome an array of challenges and activities.